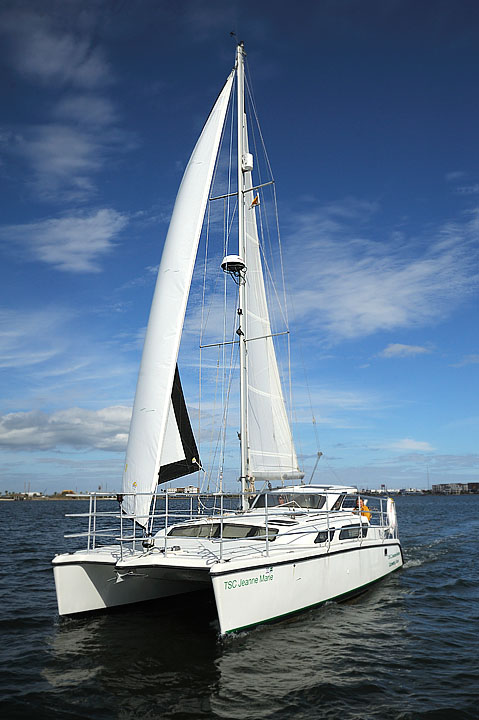 The TSC Jeanne Marie is a Gemini 105 Mc Sailing Catamaran built in 2007.
She is equipped with a recently updated Chart Plotter and Radar. She is also equipped with Automatic Identification System (AIS) capable of transmitting and receiving AIS signals. A large radar reflector is permanently high on the mast. There is a generator on board to power the air conditioning unit while under way if the need arises. The sails can be set, secured, and adjusted from the cockpit. The Genoa Fore Sail is set up with a roller reefing system and the main has In-the-Boom roller reefing.
A noticeable safety feature is the three-tier railing system fabricated from 1" stainless steel tubing. Most vessels of this size have a "trip" wire system. We are very proud of our rails.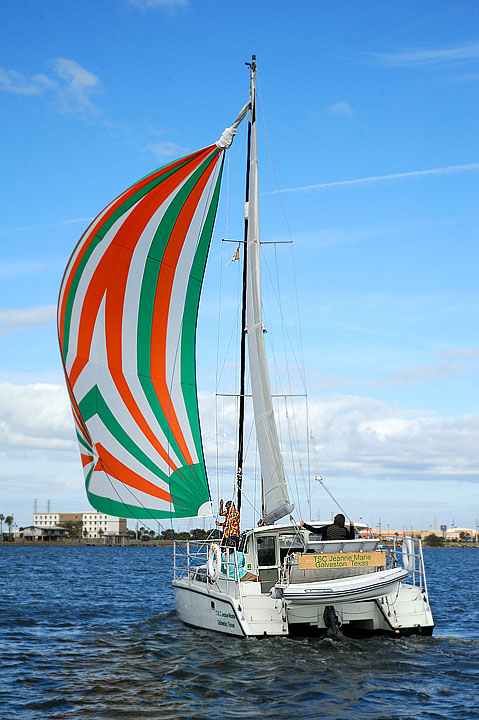 We acquired the TSC Jeanne Marie in 2015. The name encompasses my family at the time. T is for Teri, my marvelous daughter. S is for Serena, my wonderful Daughter-in-Law. C is for Charlie, my excellent son. Jeanne Marie was my wife of thirty years. She passed away in 2013 due to cancer. Her patience and support allowed me to be successful in a profession that is notoriously hard on relationships. She raised two wonderful kids while operating a successful photography business quite often by herself for extended periods of time while I shipped out on merchant ships.
In 2021 I married Roxanna, a delightful lady and partner, and I now have two grand kids, so I guess I'll have to buy another boat.